Yesterday's WonderCon cosplay round-up was owned by an adorable BB-8, but Volume 2 of our cosplay round-up is every bit as good. From the inflatable Baymax outfit you never knew you wanted to a mash-up of two famous villains from the Star Wars and DC Comics universes, prepare yourself for a visual treat in our second and final cosplay collection from WonderCon 2016.

First up is this insanely detailed and brilliantly put together Batman and Wonder Woman couple.


Is it the Joker? Is it Boba Fett? Why not both?


This Rick Grimes is seriously on point.


Seriously, can we just have a Spaceballs sequel already?


As much as we loved the reboot, the original Cylon is still the best Cylon.


Seriously, where is Francis?

Ahead of this weekend's Armageddon Expo in Auckland, Ethan Sills takes a look at the rise and rise of cosplay.


Five times a year, the Armageddon Expo takes place around New Zealand. A celebration of all things pop culture, the recurring conventions are perhaps best known for one thing: the costumes.

Cosplay, short for 'costume play', is a hobby that sees people dress up in highly realistic costumes based on their favourite fictional characters. With the rise of the internet and social media, cosplay is becoming more mainstream.

Every Armageddon Expo, there are always hundreds of people milling about casually in costumes that look like they were stolen from movie sets, easily disguising the fact these are, for the most part, made by amateur designers.

To the uninitiated and the dismissive, it is something that is forever linked with fan conventions - an occasional hobby for 'weird' people with too much time on their hands.

However, for people like Jess Woodward, cosplay is not simply a hobby. In many ways, it is her life.

Woodward first cosplayed in 2007 when she was just 14. She and her younger brother went to the Armageddon expo in Auckland, thinking it would just be a bit of fun.

Eight years on, she is now one of the administrators of the Cosplay New Zealand Facebook group, a group that boasts more than 3700 members, adding at least five new ones every 24 hours.

Woodward has come a long way from initially just planning to enter a contest with her brother.

She says that the New Zealand cosplay community she discovered online is one of the main reasons why she has stuck with the practice.

"None of my high school friends were into geeky stuff like I was, so I was drawn online to find other people into the same stuff as I was. It wasn't until I discovered the 'other countries' section of the cosplay.com forums that I met other [New Zealanders] into this stuff.

"Several [of the] people I met online before that first Armageddon I went to are still among my best friends now."

After going to 2014's Melbourne Armageddon, Woodward appreciates her community even more after finding herself alone for the first time.

"[I] was wandering around in costume by myself for most of the first day and it felt pretty isolated not knowing anyone in the community there."


Another local cosplayer, Katie Seto, went to her first Armageddon in costume in 2009. She was there to have fun with her friends, but since then Seto has turned into a serious cosplayer.

A member of Cosplay New Zealand, she attends various conventions around the country in costume, sometimes spending up to six months at a time working on one outfit.

Like Woodward, the community aspect helped draw her into the hobby.

"Once you start looking for a community for the hobby, a whole lot of things start opening up and you realise how serious it can be."

Cosplay has allowed her to make friends throughout the country, giving her a network of cosplay-connections around New Zealand.

"There's something really unique about meeting someone at a convention; there'll be that moment where you see each other and realise you like the same series. And then you find out that they aren't from that city or you're from out of town, so that's just a really simple way for fans of the same series to be brought together.

The feelings of community are a strong part of cosplay's success, according to Dr Lorna Piatti-Farnell, director of the Popular Culture Research Centre at AUT University. Through research, she found there are different layers regarding the people who take part.

"Not all fans are cosplayers. There is an abyss between 'I like that' and 'I want to dress up'.

"[There are] people who like to dress up and doing it once a year, twice a year at a convention as part of their fandom practices. And then there are cosplays which are the more traditional cosplays, where people make their own costumes from scratch and it becomes much more part of their every day practices rather than the occasional ritual."

Dr Piatti-Farnell says that for people who actively cosplay on a regular basis, they have found "a sense of identification" with the hobby and develop a "cultural circle" that allows their hobby to flourish.

"It's not about how much they like an idiom or a character but about what kind of cultural relevance it has for them."

Despite cosplay becoming more mainstream, there are still a number of misconceptions about what it is. Dr Piatti-Farnell has found that the public can have inaccurate views about who cosplayers are and why they dress up.

"Sexualisation is one of the issues around cosplaying but not necessarily part of the community," she says.

"Those who look upon cosplay they interpret the practice as a 'sexy practice', because a lot of the characters, particularly the female ones, that come from anime, or comic books, tend to be sexualised themselves."

Seto agrees, saying she has at times felt uncomfortable walking around in more exposed outfits.

"Female cosplayers especially feel a kind of pressure around that no matter what kind of costume they wear."

Cosplayers should be aware that they can face harassment, she says.

Both she and Woodward lament the fact people at conventions seem to view them as being there to entertain them.

"It bothers me that some people do seem to think they have some sort of entitlement to us because we're in costume," Woodward says.

People will take photos without asking, and act upset if she turns them down.

In spite of these difficulties, the future looks bright for cosplay. Due to the rise in popularity of 'geek' culture, more people are taking part than ever before.

"Shows like Game of Thrones have really helped bring cosplay into the mainstream," says Seto.

"It's opened a lot of people's eyes to the hobby; a lot more people know it exists now, and a lot more people take part."

Cosplay is being taking seriously by the companies inspiring the costumes. Last October, Marvel Comics featured cosplayers on the front pages of their comics instead of their superheroes, an acknowledgement and celebration of the fan practice.

The company will also be launching a new series, The Unbelieveable Gwenpool in April, in response to the character's positive reception by the cosplay community. Gwenpool had only appeared on one variant cover before fans started copying her distinctive white and pink outfit, and the response was enough to get Marvel's attention.

New technology has also helped expand the world of the serious cosplayer. There has been a rise of cosplay photography, which lets people like Ms' Seto and Woodward showcase their work.

Peter James has moved from cosplaying into photographing his friends and colleagues. He says that he does it for fun and to celebrate people's work, not for money.

"There's nothing financial to really profit from in the cosplay community. Being a cosplayer myself I know what goes into them and they go through the same amount of time and financial stress perfecting their arts."

With the accessibly of technology and its prominence in popular culture, Dr Piatti Farnell says cosplay is here to stay.

"It's not just something that exists outside of the everyday. It is part of our 21st century lives and not just something that occasionally pops up."

Both Woodward and Seto are excited for what the future may bring. It seems that neither of these cosplayers will be hanging up their costumes any time soon.

Walking around in a bodysuit sounded like fun, a chance to live my ultimate fantasy as a superhero, villain or even a supermodel in a catsuit. So I answered Japanese artist Yuzuru Maeda's call for participants to the Zentai Walk on Feb 13. "Zentai is short for zenshin taitsu," Yuzuru said as she distributed the colorful suits from which the project took its name. "It means body tight, and they were made by Japanese men in the 1980s. The idea came from superheroes."

There were about 20 other participants gathered at 98B Collaboratory's office, the artist-run space in Manila that organized the event. I asked Yuzuru how the project came about, and she said she thought that it would be fun for both participants and viewers to "paint" the streets with color, an experience she "wanted to share with people who are not usually in the art scene."  


Zentai Walk, she said, was about "questioning identities, individuality and spirituality." People pile on identities in the course of their lives, but wearing the suit can perhaps shed the accumulated personas layer by layer through the course of the one-hour walk.

Our guide, a girl with a pink banner and a megaphone, soon announced that it was time to take a stroll. Yuzuru helped zip up my shiny black bodysuit, and my world turned into a sea of hazy forms and desaturated colors as soon as the fabric covered by eyes. I thought that if I saw less of everything, then everybody would probably see less of me as well, and there was this sense of anonymity. To stand among my new-found "anonymous" brethren also felt strange, and wonderful.  

"The participants don't see each others' faces, so you kind of become friends without introducing 'I am doing this job, or I study in this school' — we don't need these introductions to be friends," the artist said. By the time we hit the streets, I had forgotten about my superhero (or model) fantasies. "They (the participants) walk on a street that they know, but the reaction of the people (the bystanders) was different because of the suit," said Yuzuru, "and the experience of 'same place, but different experience' is interesting."


I've strolled through Escolta many times, but never in a black bodysuit accompanied by a spandex-clad squad. The place's denizens were in the midst of their daily grind when we took a stroll. Adults kept their distance and simply stared, with some perhaps annoyed by the invasion of the spandex platoon. But the children were certainly amused, most of whom approached us to ask for high fives, shake our hands, engage in easy banter or simply romp along with us.

Devoid of my real self and prejudices, the street kids amused me with their own perceptions of the figures who've descended on their neighborhood, some shouted "Power Rangers," others screamed "mumu." Clichéd as it may sound, the experience was liberating. The anonymity emboldened us to engage with strangers and to explore our "playground" with childlike wonder. I was having a lot of fun in my new skin when the guide announced that it was time to head back.


Upon Yuzuru's prodding, we piled into a jeepney for one last photo-opportunity. After a couple of shots, the driver informed us that he needed to fill the jeepney with paying passengers, a cue for us to leave. I would have ordinarily dismissed the statement as a sly attempt at extortion, but my suit apparently shed off my cynism. I remember dutifully exiting the jeepney, thinking that it was only fair, "trabaho lang po," as the driver said, for us to leave the space that earned the man his income.

I had one last go as a faceless being and asked a Burger Machine vendor for a roast beef sandwich. "Naubusan na kami," she replied without batting an eyelash. Then and there I realized that Escolta was getting used to its visiting aliens as well. Yuzuru was right when she said that "the Zentai Walk is a beautiful experience."  It revealed many things to me: Escolta's alter-ego, the soul trapped beneath layers of my own accumulated identities, and life's bigger truths.  


In her Zentai Art Project website, Yuzuru seems to have figured things out. "People say the world would not last long if we continue to consume the way we do now.  But I think we are not looking for a new invention that can save the world. I believe the key is to have less desires or identities.  If we could live simple, there's much less things we require materially."
Perfect Prom Dresses are critical for both comfort and looks. Professional prom dress alterations can be costly, but in fact many simple Prom Dress alterations can be made at home with only a needle and thread. If you are a skilled sewing machine user, you may even be able to re-size Dresses.

Things you will need:

Pins Scissors Needle and thread Sewing machine

Instructions:

1. Try on the dress with the appropriate bra and shoes and determine any fitting issues. Is the length right? Does the bus fit? Strapless dresses should fit close from bust to waist, while a dress with straps is designed for a looser fit.


2. Pin your dress to correct the fit. Perfectly, the dress should be inside out when you pin it. To alter the bust, pin at the bust darts, rather than the side seams. Even out substantial alterations between seams, when possible.

3. Baste alterations into place. Use a needle and matching thread, or a sewing machine set to a long stitch length. For best results, sea hems by hand. If you remove fabric, stitch over the cut edges with a serger or zig zag stitch prevent the fabric from fraying.

4. Try on your prom dress and assess the alterations and make the necessary adjustments.

Floor-length Prom Dresses always looks stunning, but can be suffused with peril. A small step may lead to embarrassing trips and falls. So, when you are wearing a Long Prom Dress, it is important to be aware of your dress at all times, when you sit, when you stand, when you turn and when you walk. If you never forget to check your Prom Dress before moving, you'll most likely avoid footing mistakes.


1. Check your dress hem and make sure that it is sewn properly, that is, that there are no gaps in the seam or places where the hem falls out. A falling hem can get your shoe's heel stuck in the hem seam, leading you to trip, or to tear the hem of your dress further. Also ensure that the hemline is the correct length. If the dress is just slightly too long, you only need to raise the hem to keep off tripping risk.

2. Kick your dress out of your way by your feet or move the hem of the dress away from your way by your knees. When you take a step, move your feet in toward your other ankle first, and then forward and out, like a dance step. To use your knees, when you take a step, your knee just forward, like a horse's prancing step. In this way, your skirt will be pushed out of the way of your feet.


3. Wear the right shoes. Wear shoes that have a heel not higher than you are comfortable in. If your dress is floor-length or longer, your shoes shouldn't be visible at all. This gives you leeway to wear flats or kitten heels, which will make your dress hem more comfortable and less dangerous.


4. Turn correctly. When you turn, you need to move the train of your dress out of your way, helping the back swing around properly. If your dress has a long train, you may need someone to help you move it.

5. Practice in advance. Put your dress and shoes on and practice walking around before your event. This will let you know about your potential problems and adapt your movements.
Girls spend a lot of time preparing for their high school proms, but thanks to Project Prom Dress, they no longer have to worry about the cost of that dress.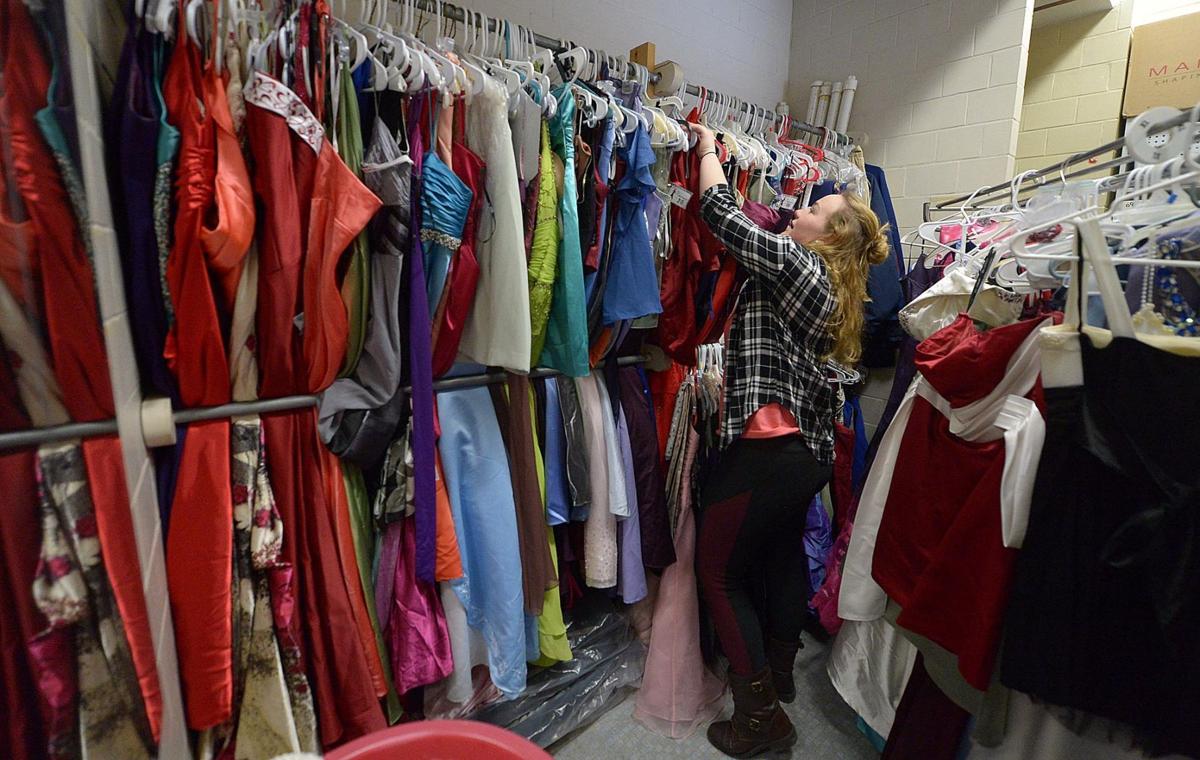 "Nothing is over $30," said Miranda Fisher, adviser of Tau Kappa, the athletic sorority at Shippensburg University that sponsors the annual event.

This year, Project Prom Dress will be held from 8 a.m. to 3 p.m. March 20 in the lobby of Heiges Field House. There will be an assortment of prom dresses and formal gowns in a range of sizes, styles and colors, as well as jewelry, shoes and purses, all at little cost.

"Dresses are $5 to $30, accessories will cost 50 cents to $3 to $4, and shoes won't be over $15," Fisher said.

The inventory has grown steadily since the event started six years ago, and about 150 dresses will be on sale this year.

"We keep dresses that aren't sold, so we have pretty large collection ... and we are constantly accepting (new) donations," Fisher said. "I had a dress mailed to me last month."

There will also be door prizes donated by local merchants and members of Tau Kappa and the university's athletic department. Fisher said donations are still being accepted, but past door prizes have included gift certificates to local hair salons and restaurants, makeup and makeup bags.

"Last year, we had 14 different baskets that we were able to give away," she said. "We're aiming for that and maybe even more this year."

Fisher said everyone who attends will receive free door prize tickets, which they may place in the baskets of their choice. Additional tickets will be available for purchase.

Proceeds always benefit a local charity. Tau Kappa members have not yet selected this year's charity, but past proceeds have gone to organizations like the Multiple Sclerosis Society and Randi's House of Angels in Camp Hill, which benefits victims of domestic violence.

Fisher said the sorority's mission has not changed over the years.

"The group was looking for a way to help local students who might not be able to afford all the things the prom entails, so they decided to collect dresses, and it just snowballed from there," she said. "We're doing this to raise money for charity ... but it's not just about making money. It's about helping girls enjoy an evening that they otherwise might not be able to enjoy."

She said if a girl finds a dress she likes but cannot afford it, the sorority usually gives it to her.

"We try to throw in accessories, too, because we know that not everyone is fortunate enough to be able to afford those extra things," Fisher said.

"The members of our sorority are very encouraging and helpful. They make suggestions ... (and) try to make it fun for them so they feel confident and beautiful."

Isn't that what we all want? Yet how many of us can actually say we do? I love the graduation dresses indeed but others may think I don't fit the style. Such things often happen. We always care others' opinions and ignore ourselves'.

For many years I certainly couldn't. I lived my life fitting in: doing what seemed right, in the way everyone else did. I thought it would bring me happiness. Whether your prom dresses fits you or not depends on your own feeling, not others'.

There's no point going after something you are half-hearted about – you just won't succeed. You won't give it what you need to; you won't see it through. Staying in your current world you will not move forwards. If you know you need to change, seek out others – writers, internet groups, training courses, supportive friends, meet ups, coaches. You can only see so far; go out and consciously expand your horizons, be under the influence of people who think bigger, who've done what you want to do, who live in the way you want. Remember, what are you like in others' eyes is exactly the same as what you are like in your own mind.

You can live your life your way – no matter what others say; no matter what the rest of society is doing. If that's not for you, if you don't believe in it, if it doesn't make your heart sing, DON'T DO IT, go your own way and you'll build a life beyond your wildest dreams. You can live your life your way, because you are unique in this universe.

Right now across the country, high school seniors (and a few select juniors) are preparing for the seemingly unchanging ritual that is prom dresses. While the basic contours of the celebratory evening have stayed the same over the years — there is a dance, and the kids dress up for it — the rise of social media has changed how that evening plays out. The Wire talked to three seniors at a Catholic high school in Pittsburgh about what they're doing to get ready for the big event, starting with the promposal and ending with the after party. Their prom is in two weeks.

The dress is still a major part of the prom experience, but girls no longer have to worry they'll show up wearing the same one as a classmate. The girls in Brittany and Jamie's class made a private Facebook group to post photos of their dresses so nobody purchases the same gown.

And while prom dresses haven't gotten any less expensive, online services let girls rent them for the night instead of buying. You can rent the $995 Nicole Miller "Living a Dream" gown for $80 on RentTheRunway.com. Shoes and jewelry can be rented, too.

Guys rent their tuxes, and some plan to match their dates. Vinny explains, "I got a little sample of my girlfriend's dress that she got when she got it hemmed, so I'm just going to take that to the mall with me and try to match a tie."

The Dance

This part hasn't changed much. Vinny recalls, "Last year we had it at a pretty upscale place, and we sat there and had dinner." The dancing part goes on for a couple hours, thanks to a hired DJ. "I thought [the music] was pretty good," Vinny says. "I took selfies with friends at the dinner part of prom," Brittany offers.

"I know this year, I think they're trying to do some black light theme," Vinny says. "I'm not sure how that's going to work, but apparently the girls think it's going to be great." They'll vote for a Prom King and Queen on scraps of paper at the dance.

The kids aren't doing much twerking, however. Vinny explains, "I think a lot of people try, but especially at the Catholic school, the teachers watch very closely."
More and more people care other's opinion. Actually, you are the one who you are. Others indeed do not know your feelings. When you are happy, they have no sense of your smile. When you are crying, they just could sweep your tears, but they failed to reduce your sadness. So, if you are favor of charming Prom Dresses, delicious food. Just go ahead and make it.


Yes, when you are wearing a Fashion Prom Dresses to a party,  others just can fall in love with your appearance. Instead, they never fell your felling in the deep heart. Maybe, you are nervous. Or you are excited. Even before the party, you went to the shop  for the Prom Dresses 2016, it took many days to make a decision.


All in all, how others may become you and do things instead or yourself? In this big world, we really have no need to care much about others. Time flies. Our life time is extremely short. At the moment you want to buy dresses, go and buy. No matter what others may judge. When you are thirsty of food, go and eat. Although you might be fatter. But all the things you should keep in mind is that you just need to be healthy. Sometimes, you are jealous for girls' sexuality, good body shape.  But how do you know their feeling when they are losing weight and taking weight-loss pills?
People always said that it is difficult to make the best of both worlds. As for the girls, there exists a choice between Lolita and Lady. So how do you think about yourself? If you want to be Lolita girl, you may try Cute Dresses.Otherwise, you should look for Sexy Dresses.


What impression do you prefer to give strangers? You may change your mind occasionally. Some day, you will attend a formal party. But you are interested in a Floor Length Dresses which does not match your shoe heel. You are upset. In the end, you payed a Knee Length Dresses.


Although you are not favor of it, you think it can help you more attractive in the party. Why? Because the short dress can show your beautiful legs, new shoes.

However, every people has his own opinion. In my point of view, girls should not be just divided into 2 kinds.Every girl has many aspects which few people may notice. Sometimes, they are sensible.Even sometimes they are full of sensibility. They are smiling but they just cried one second ago.They would be strong if they are alone. While they would be a little girl if there is someone to rely on.

As the same condition, we can not say girl will be Lolita or Sexy. They can both become the both kinds in different situations.
"You don't know what makes you beautiful." This is a famous song by One Direction. Do you indeed know what can make you more beautiful? Obviously, Chic Dresses, Beautiful Shoes, Precious jewelry. All the things can make girls more attractive. Ok, we will analyze the external factors that affect girls' appearance.

Firstly, amazing clothes. Some Special Occasion Dresses would catch your eyes. When you attend a party, you will select a dress which can express your own personality. Sexy Women Dresses and Prom dresses would be your tea.

Girls want to attract other's attention. Therefore, they will try all kinds of dresses including the different colors, the necklines or the waistlines. What's more, they will not feel tired. So you can imagine the importance of the dresses.

Secondly, beautiful shoes. After selecting dress, girls would like to go for shoes.


They will choose one pair of shoes which can match the dress and make them comfortable. Someone said that if you want to know a girl well, please look her shoes. It means that the shores can judge one's personality. Believe or not, beautiful things always get more attention than ugly ones.

Thirdly, precious jewelry. Maybe, your ears are waiting for a pair of pink earrings. Or your neckline needs a shinning necklace. How about your middle finger? If he tells you that he likes golden ring? All of them will be a part of helping you more attractive in a party.


Besides the reasons above, there are many reasons that we didn't mention today. Of course, these are physical reasons. Internal factors also affect our beauty, such as confidence. But how do you think what is the most important thing which make you beautiful?
With Christmas coming close, year 2015 is coming to an end, and the season of buying gifts for families, friends is also coming. Which means a big sale season is coming. Most people fall each other in eagerness to buy all kinds of new year gifts. But hardly people knows this is also a good season to ordering party dresses with big discounts like Prom Dresses 2015, Prom Gowns and kinds of Prom Dresses.


In fact it is really smart to looking for prom dresses early at the end of year if you have prom in months next year with much more new styles with big discounts as often at th end fo year, shop owners will give discounts for new year for less fashion dresses and new arrival dresses.


Not only for big sale, if looking earlier for your dresses, there will be much enough time for you to see more styles of dresses and comparing them so that you can find the most perfect dresses, right?

At this way you can both find the perfect dress and will save money for a best Christmas gifts. Besides, when people are busy looking their dresses, worrying which to pick up, you can have more time spending times with your date who will going together with you to the party. So sweet.

Earlier ordering, better saving time and money, hope you enjoy yourself at the party and Merry X'mas in advance!
When talk about a wedding, people like to feel the feeling that grooms first sees his bride! Because it is such a romantic and emotional moment.

Many couples are choosing to spend a private moment together before their ceremony, and it is "first look. The love and surprise captured in a first look could be such an unforgettable moment.

Groom and Bride First Look is always so touching, I always can't stop crying when I see these pictures. I think this is one of reason that why we need to find someone we love and get married!

How to impress your groom, of course, you need to find the fitting gorgeous sexy beach wedding dresses or trumpet style wedding dresses for your big day!

Personally, I really also want such a great moment before the ceremony at my wedding without the crowd, intimate just for us and photographer to capture the emotion.

A moment just belongs to each other that could be awesome!

Here, just let's us browse a series of grooms' first look, no doubt that these picture will melt your heart!

Bridals who plan to get married will never want their bridesmaids look  better than themselves, which this might attract attentions from themselves. Of course this is reasonable in bridals' big day, bridals should be the most shine out person. Not only should bridals put attentions on their own Wedding Dresses 2016, they should pay attention on bridesmaids' Bridesmaid Dresses or Bridesmaid Dresses 2016, and also pay much attention on their bridesmaids' hairstyles.


So when the bridals decided to select appropriate bridesmaid hairstyle at weddings. First things need to be considered that is bridesmaids' hairstyles should match bridals hairstyles but not conflict them. As a result, some simple hairstyles can be better.

Just like this Tousled waves hairstyle is perfect, which can both fit a medium length hair and long hair.


What comes the next should consider is what bridesmaids' wearing. If bridesmaids will just wear simple dresses, then much exquisite hairstyle should be called for. On the contrary, if the dresses have attracted more eyes, some simple and natural hairstyles are recommended.


Neckline of the dresses are also needed to be considered. If with high neckline dresses, then hairstyle should take those pulled back or up. And if with strapless or sweetheart neckline, those elaborate hairstyles are much preferred.
How time flies! Halloween is just a few days around the corner, people just hot plan their crazy night with various Halloween Costumes? Some girls are just picking their Prom Dresses, Homecoming Dresses joining parties. What comes close to Halloween, Thanksgiving Day is approaching. How to celebrate this Thanksgiving day, do you think of that?

As Thanksgiving is an annual time to bless and appreciate about your life. More often, this big day just thought of a day to thank mothers, wives and women by some people, so in that day, people will often prepare a gift fot their mothers or wives. This year Thanksgiving is getting close, what will you prepare?

Here are some best Thanksgiving Gifts recommendation.


First of all, there is an old saying that no woman do not like flowers. So Flower, is a first hand option if you want give a Thanksgiving gift to a woman. Go to a flower shop and pick up her favorite flowers or just pick up from your garden with some words, she will be super delighted.


Just as flowers, Jewerly will be another option for Thanksgiving day. Jewerly will both up the temptation of a woman and make her beautiful.

Just selecting some jewerlies like necklace, earrings, bracelet or rings based on the taste of a woman that will be great.
Generally speaking, Homecoming Dresses can be worn for one time, maybe you will not use it later until you move it out or your mother ask you what to do with you old dresses, but, do you know, in fact, you can make some changes for the dress so that you can wear it into different kinds of occasion, maybe people will not know that this is an old dress it you change it successfully.

Now, I would like to give you some tips about change the dress.

1. Add a bold belt, this can draw people's attention from your dress to only the waist. Wide belt works better for this. Or dear you can sew a new ribbon on the dress, this can make your dress looks popular, you can sew the ribbon along the edges of the dress, at the waist, down the sides or along any other seams that the dress already has.

2. Make a change of the dress lengthen, you can make the long prom dresses into a short one, and so, it can appears in some occasion which is semi-formal. Cut the dress to about an inch longer than your desired length, pin the fabric up to make an even edge and hem it to your new length. Knee-length dresses are especially cute.

3. Add some sequins or beadings to the bodice party of the dress, you can add some beading or sequins to the part or the whole dress, other people will not know it is an old dress…
If you are seeking a special, unique way to your prom party, they to get some method from those girls:

1. Sock it to Him! Maybe sometimes, it is the simple way to invite him to homecoming, How about give him a pair of socks, maybe a paper in the sock is good: "It would sock if you didn't go to winter formal with me."…so, maybe a pair of formal black sock which he can wear for party to match your homecoming dresses is a good way…

2. T-Shirt Secret, the girl Allie Hodgen is very creative with her dance. She got a white t-shirt, and then wrote the names of a bunch of girls all over it… in washable marker! But, she wrote her name in permanent marker. Her date was then presented the shirt and told to put it in the washing machine to reveal who wanted to take him to the dance, if you would like to go to with this way, try to be mystery as long as you can…

3. Homemade Scavenger Hunt, Mekayla Melahouris, a girl who is a Junior, she want to ask her boyfriends to go to prom with him, she placed the construction paper arrow around the playground which he will practice after school, after her boyfriend find this, he said yes…

In my opinion, which way to you wants to invite him for prom, that is depend on yourself and the really situation, you can combine this with her characters and then decide it…Now that you've got your dance proposal figured out, you just need to figure out who should pay for what! Hint: It's totally okay to split everything, especially when it's a costly dance like prom dresses.
For a high school girl, perfect homecoming dresses are one of the most important part for homecoming…homecoming is less formal than prom, so, sometimes, one short or knee-length dress is welcomed by them, on shoulder dress, strapless dress, the simple, classic style are popular for homecoming…in fact, there is no need for you to spend a lot for homecoming, some cheap homecoming dresses under 100 are also a good choice. The most important is to make yourself be special; unique which will make you feel confident and comfortable with what you are wearing…

Some tips for you to choosing homecoming dress

1.  Bring your friends with you when you are choosing homecoming dresses, if you never had homecoming dress before, please do not forget to take your friends with you, because she can help you pick something that is appropriate for your school's homecoming, and your friends will be honest with what looks good or not good.

2.  Try to have variety of colors for the dress, this can help you decide which color is the best choice.

3.  Move and dance around in the dresses when you try them on. This will ensure that the dress is comfortable and that you are able to move freely in it.

4.  Please do not forget to ensure your size; it can not be too tight or too loose, or you will not be comfortable when you are on your dancing…
As all of you know, the busiest season has coming with the halloween costumes holidays…Overseas buyers are shopping online everyday to get their perfect dress, Halloween customs, and also the Christmas gift everyday…this is almost the hottest season for shopping online…

I would like to share my experience for shopping online with such as bust season, because I have suffered one, which has almost ruined my all holidays…

Firstly, this is also the most important, that is you have to try your best to choose trustable and reliable site to shop, sometimes, a large of stock is very important, especially for the Halloween costumes and accessories…I will always like to contact with me customers to check the stock before I add them into my shopping cart…

For the second side, when you are shopping online with some customized size products, such as zentai suit, prom dress, or wedding dress, you have to make sure its processing time and then place order, as I was told before that As most manufacturers will not accept costumes customize service like: removable mask, crotch zipper, aperture face, open eyes when Halloween is coming around, so, if you need this service before you place order, I think you have to check this…time for tailoring and time for shipping, this is very important when you are place order, because as you know, Halloween and also Christmas are very busy with shipping…Such as, if your homecoming is 15th, October, now, it is the right time for you to ordering your homecoming dresses, because you have to leave some time to make some changes for this…
September has been coming, every girl thoughts during Sept," I just want to get asked to homecoming in a cute way"! Well before getting the date, do you find your favorite Inexpensive Homecoming Dresses? What will you wear to your homecoming dance?

Homecoming, as the first big event of this season, it's a bit less formal than prom, but no doubt you girls will still want to kick off the school year in the major style! Have no idea what to wear to light up the fall's biggest night, you may get some nice inspiration here!

Hope all you girls are lucky that to get asked to homecoming in really cute ways!

Selecting Bridesmaid Dresses can be a lot of difficult as picking up wedding dress for a bride. There are so many things you should take into consideration like whether the bridesmaid dresses are matched your wedding dress and the wedding theme. And there often are many bridesmaids, so you should also consider what your bridesmaids think about the gowns. The budget is also need to be thinking. It can be definitely be a great challenges to dress a bridesmaid group.


If you are looking your Bridesmaid Dress for sale, here is a nice Collection of Cheap Bridesmaid Dress recommended for you.

Bridesmaid is the person accompany with the bride, so of course when selecting the bridesmaid dress, you should definitely set the option which should match the wedding dress, like the fabric, the color, style, etc. And it is clearly to see that a chiffon bridesmaid dress is so favored by people.


Not only that, the season when holding wedding is also should take into consideration when selecting the bridesmaid dress. Hot summer with short mini dress, and other season with long dress. With the different season, the color of the dress should also be changed.


Besides, as it often has several bridesmaids, and the style will be different from person to person, so a good suggestion is just decide the whole style of the dress and the fabric, and some details of the dress like neckline and sleeves can be changed to personal style.

Summer vacation 2015 seems to get to an end and back to school is well in sight. How do you feel? Actually, it is obviously that students have already been busy preparing their back to school goods, especially those freshmen. Not only need to prepare themselves well to enter a new school, facing new schoolmates, there is also an annual big events waiting for them that is Homecoming week.

What Dresses for Homecoming they should pick? What are the newly Homecoming Dresses 2015? Since noboday wants to be out of fashion the first day in school. What are the best suitable Homecoming Dresses for them? Lots of questions are just makeing them nervous and worried.

If you are just one of them, here is a nice chance for you that SinoSpecial prepare a big gift for you all, especially new freshmen. This homecoming, all orders can save $10 over every $100. Much buy more preferential!


If you are not that clearly about which dress to pick up, here are some recommendations for you.

For students, especially freshmen, some pastel color is better than those heavy makeups. So does the color of the dress.


Also, simple style with puffy skirt will great suitable for lovely and energy freshmen.


Besides, there are some students want to be more attractive and mature, this sheath sequins mini homecoming dress will be very nice for you guys.


All above do your help? More collections and new arrivals keep updating in SinoSpecial.com. Hope you enjoy your homecoming!
Although it might be a little early to talk about Halloween this year but it cant't harm to be prepared for that big night as it is truly getting closer and closer. Every year when getting close to Oct, 31st, people from all ages are excited preparing their Halloween Costumes, mainly scream, horrible Lycra Spandex Suit or Zentai Suit. Have you ever just want to enjoy your Halloween not that horrible, especially if hold a family party with kids and the old. Actually maybe some cute costumes are better?

If you are just thinking a special lovely Halloween night, here are some sute ideas for you.

Top 1 recommendation that is recently hot cartoon movie UP. The exaggerated kid dream to fly the house with colorful balloons really suitable for Halloween.


The second hot recommendation is the fairy tale, such as Alice in Wonderland as there are so many roles you can choose from all ages.


Except the fairy tale, those superhero films are also nice choice, Batman, The Incrediables for group costumes.

As well as some hot classical games including Angry Birds, Mario, etc.


So this year which theme do you want to pick up? Looking forward!
As a girl will always looking forward to her special moment in life, prom is just one of that moment. When the prom is getting closer and closer, girls seem to be much more worried and nervous that they always think there is not enough time to preparing themselves everything perfect. Don't doubt yourself, the answer is finding the important prom dresses 2015 suit them perfect, affordable prom dresses and plus size prom dresses often will become the hottest words surfing in the Internet at that time.


Selecting a perfect prom dress will spend a lot of time, so you should start your plan the earlier the better and the do your best trying on kinds of type of dresses that might be suitable for you if you do not know clearly about which kind of dress is much suitable for you.

Color of the dress is one of the most important thing when selecting the dress. Remember these tips, fair-skinned girls should pick up those pastels as lilac, pink one. If not, with darker color skin, you'd better going with some navy blue or dark green one, forget the white color. But red one will look great on every girl, hot and shiny.

Besides color, the body shape is another key to your perfect prom. Tall girls do pick up those empire waist dresses that will help you look like goddess. On the contrary, you'e better choose short or high low style dresses.

After that, what you need to do is pick up the right perfect accessories and hairstyles which will definitely do a great help to your prom.

When you are planning your wedding, there is an interesting poll: ring or wedding dress, which one is more important? The two stuffs that both necessary and meaningful on big day!

Personally, I am going to say wedding dress!

I would rather have a cheap $50 silver ring with the option of changing it later, and a gorgeous sexy beach wedding dresses which can impress my groom and every guest, than $50 wedding dress and expensive ring!


Trumpet style wedding dresses is something that you can have more photos of to remember and it is able to make you feel super amazing on the day! It is just for the big day, but it will be in all of pictures, and the memories will last a lifetime. When you are old, when you look back some the best things in your life, no doubt, the wedding dress you wore on your big day is one of them!

Of course, the ring is very important. It should be good enough, because you need to wear it a lifetime, your ring will be with you all the time. It's the symbol of your love! Well, as long as the ring is on your finger, you can adjust or alter it anytime!